Slip resistant epoxy flooring and other coatings are required by most facilities, and with good reason. Virtually all spaces, both commercial and industrial, are susceptible to the high risks of a wet and slick floor. Our slip resistant flooring and coatings come in a variety of finishes, from the very mild to coarser textures, and are installed according to your specific needs-from rainwater to oil and jet fuel, our flooring can provide a high measure of protection against dangerous conditions.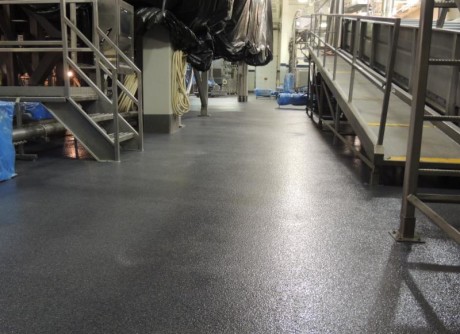 Areas of Use
Hospitals and Clinics
Food and beverage processing plants
Retail and Grocery Stores
Restaurants, Hotels, Casinos and other hospitality locations
Aviation and Aerospace Hangars
Airports and other transport terminals
Vehicle maintenance bays
Schools and Universities
Manufacturing, assembly and packaging operations
Veterinary and animal facilities
Correctional facilities and Penitentiaries
Laboratories and Pharmaceutical Production Facilities
Electronics, semi-conductor and avionics facilities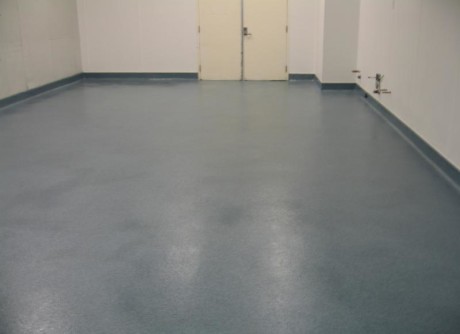 Surfaces that are frequently wet, dangerous, or inconvenient if slippery are often given special treatment to ensure a non-slip finish. These finishes can be achieved by hand tool techniques, by sawing, by applying an abrasive aggregate, with epoxy urethane. Troweling is the easiest way to obtain a non-slip surface, but it is probably the least durable.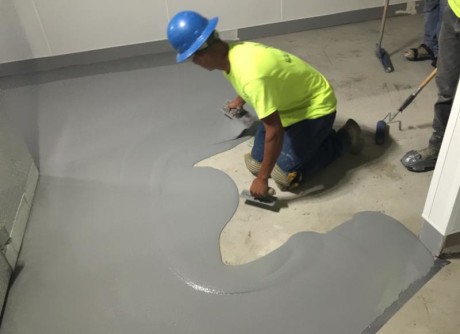 Depending upon the degree of slip resistance required this method might consist of merely discontinuing troweling after a wood floating operation to produce a gritty surface or swirl troweling to raise ridges on the concrete surface. Where foot traffic is to be heavy or for industrial vehicle applications, it has been found advisable to use abrasive grains in the surface of concrete to provide a long lasting non-slip surface.