Overlay Floor Maintenance
A high-quality overlay installed by an experienced applicator can provide a new surface that will last for decades, especially when protected by a good-quality sealer. A sealer not only makes the surface easier to clean, it offers other benefits as well, such as enriching the color intensity of the overlay, blocking the penetration of stains, and improving water repellency and abrasion resistance. Some sealers will also give the surface a sheen, ranging from satin to high gloss depending on the product used.
Manufacturer recommends that you re-coat every 2-3 years based on traffic and wear. If you get tired of the current color of the floor, this is a great opportunity to change it. The re-coat only requires a light sanding to create a profile, then application of the new coat. When you reapply the topcoat, you will only be wearing down the topcoat and not the base coat. This will also give you the opportunity to fix any damages to the floor caused from pallets of forklifts.
What type of floor was installed?
Epoxy
Urethane
MMA (Methyl Methacrylate)
Chemical Resistant Topcoat
Quartz
Flake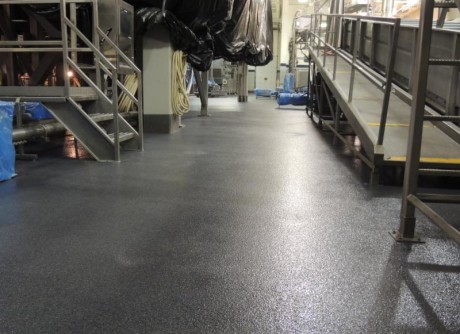 Polished Concrete Maintenance
Although polished concrete floors are extremely durable through the densification and polishing process, they will eventually lose their beautiful shine if not properly maintained, especially if they are located in high-traffic commercial or retail facilities. The good news is that while polished concrete floors are not maintenance-free, they generally are easier to maintain than other types of decorative concrete floors, since they require no waxing or sealers.
Never introduce wax to a mechanically prepared polished or stained floor. If your floor looks dull, have the floor reburnished and guarded to restore the shine. Based on the traffic, this will have to be done every 1-3 years. Have this added to your annual maintenance program.
Variety of Finishes:
Matte (400)
Level A Sheen – Low Gloss reading of 30 to 40. 400 grit diamond finish.
Level B Sheen – Medium Gloss reading of 41 to 55. 800 grit diamond finish.
Level C Sheen – High Gloss reading of 56 or higher. 1500 grit or higher.
Clear
Stained
 
Maintenance Procedures for Finished Concrete Flooring:
Daily:
Keep floor clean with dust mops. Clean up all spills immediately, and mop spills using LS Klean Super Concentrate solution diluted at 2 oz. per gallon with fresh water. (Keep mop and bucket or spray bottle with diluted solution on hand at all times.)
Clean with Daily Klean diluted at 1 oz. per gallon with fresh water in auto-scrubber equipped with a white  pad on a daily basis. Mop areas the auto-scrubber can't reach using Daily Klean diluted at 1 oz. per gallon of fresh water.
Weekly:
Clean floor using LS Klean Super Concrete solution diluted at 1 oz. per gallon with fresh water in auto-scrubber equipped with white pads.
High-speed burnish floor using white pad if necessary.
Quarterly:
Perform deep cleaning process using LS Klean Super Concentrate solution diluted at 2 oz. per gallon with fresh water in auto-scrubber.
Assess floor wear patterns.
For high traffic areas that show wear, retreat surface with one to three light applications of LSGuard or Polish Guard to cure for at least 1 hour, then high-speed burnish the surface with the appropriate pad.
Annually:
Assess entire floor with owner. Determine appropriate reapplication process.
Helpful Tips
Clean up spills as fast as possible. Less time on the floor means less chance of stains.
Pick up large debris by hand.
Sweep or dust-mop entire floor.
Auto scrub entire floor.
(Call our office to have an annual maintenance bid prepared.)
Why Clean Your Floor?
Appearance: Your floor will look its best when it is clean. By instituting a scheduled cleaning program, the floor will continue to look and perform as it did when it was first installed.
Safety: No matter how aggressive the texture of your floor, if it is not cleaned properly, it can present a slip hazard. Emulsifying, rinsing, and drying your floor properly will reduce the risk of a slip and fall incident.
Service Life: The lifetime of your floor will depend upon how well you clean it. In aggressive use areas (i.e. kitchens and machine shops) contaminates such as oil, dirt, and grease work with water and bacteria.
Floor Cleaning Process & Tools
The best way to clean a resinous floor is to use the recommended cleaning product and follow a six-step process. (Equipment need vary between small and medium/large floor areas.)
Sweep floor thoroughly with a broom, dust mop, or floor sweeper.
Apply cleaning product on floor surface with deck brush, foamer/sprayer or automatic floor scrubber.
Dwell – allow cleaning product time to emulsify foreign material 10 – 15 minutes.
Agitate to aid in the release of foreign materials with deck brush, rotary floor machine, or automatic floor scrubber.
Remove cleaning product from the floor with a squeegee (soft neoprene), wet vacuum, or automatic floor scrubber.
Rinse the floor with clean water and remove wet vacuum, squeegee (soft neoprene), or automatic floor scrubber.
 
WARNING:
Never use acidic cleaning products on polished concrete flooring.

Never use delimanine products on polished concrete flooring.