In many workplaces marking areas is an important part of both safety and efficiency. Dynamic Coatings Inc. provides services in epoxy safety lines and can create the safety line markings that a company needs to ensure both safety and efficiency.
Safety line marking is the process of creating lines on a floor system to mark key areas. The safety lines installed by Dynamic Coatings produce bold permanent traffic lines on industrial and commercial floors. The safety lines come in a number of different colors. The safety traffic lines are used to mark walkways, aisle ways, hazard zones, loading areas, crosswalks and areas of high forklift traffic.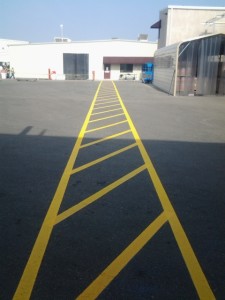 The epoxy paint safety lines have a number of properties that make them superior to safety lines painted with conventional paint. The heavy duty lines are resistant to abrasion and harsh chemicals so they are ideal for high traffic areas. They can also be applied to bare concrete or well bonded paint. Epoxy paints dry quickly and will be dry to the touch if they are left to dry overnight. They are also formulated to be solvent free and virtually odorless. There are also illumine-scent and anti-slip treatments that can also be added to the lines. These treatments make the lines more visible in low light conditions and less slippery in wet conditions. This can significantly increase worker safety.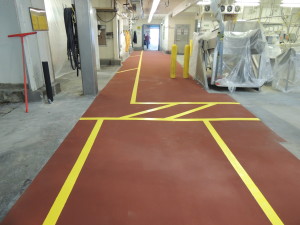 Safety lines are distinguished by color. Each color represents a certain action or warning.