I. Determine Cause(s) of Floor Deterioration
Before you begin repairing floor defects, it's important to identify their underlying causes in order to determine the best long-term repair strategy.
Example: Joint spalling may be the result of an improper joint filler installation (i.e. low filler profile or poor joint cleaning prior to filling), the wrong joint filler (i.e. urethane that is too soft to support traffic), or no joint filler at all. These are material problems. Joint spalling could also result from differing slab elevations (slab curl) or rocking slab conditions (subgrade deficiencies or voids). These are structural problems that need to be corrected prior to performing standard joint repair.
II. Select Appropriate Floor Repair Material(s)
It's important to choose the repair material(s) best suited to meet the requirements of the facility's operations. Considerations may include frequency of traffic, vehicle loading and types, building temperature, time allowed to perform repairs, defect width, etc.
Example: The repair material best suited for repairing a spalled joint may be heavy-duty, semi-rigid epoxy or polyurea or a structural epoxy mortar, depending upon the width of the spalled joint (wider exposures require more rigid products), the access time required (will an epoxy take too long to cure?), structural condition of the floor (are the joints still opening?), is the defect in a freezer/cooler (polyurea is likely best).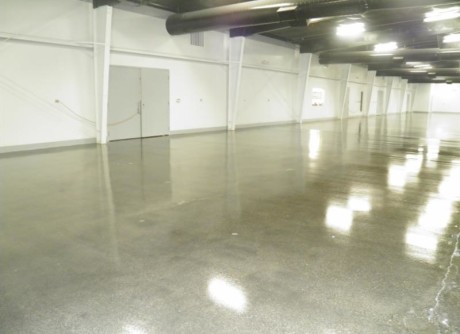 III. Prepare Defect for Repair Material
The key to achieving long-lasting repairs is making sure the edges of the defect are defined and the defect is cleaned properly prior to filling with repair material.
Failure to properly clean and prepare a floor defect is probably the #1 cause of ultimate failure. Even the best possible repair material will not function properly if it's placed into a poorly cleaned joint or crack, or if the repair material is "feather-edged" along the outside of the defect. The edges of joints, cracks, and surface spalls all should be at least 1/2″ deep vertically, and clean and dry prior to filling, to ensure the long term durability and structural stability of any repair.
IV. Finished Repair Should Be Flush with Floor
The goal in any floor defect repair is to restore a smooth, continuous transition across the floor surface. To achieve a flush profile, repair materials should be placed slightly higher than the floor, then shaved or ground flush with the surface.
The finished profile of any repair should be "flush" with the floor's surface. Simply filling a defect "even" with material generally results in a finished profile that is concave or dished, as repair materials typically settle a bit during cure. Repair materials should always be placed slightly higher than the floor surface and be allowed to cure. Once cured, excess material can be shaved or ground flush with the surface.