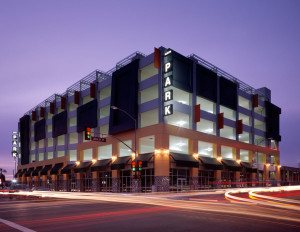 Parking structures have a crucial role to play as the first point of call for a visitor to any public, private or commercial building.The parking area is the 'front door' of the building, while also serving its primary functional role. There is no doubt that first impressions count and appearance, ease of use, signage, bright lighting and clear directional marking all help to make a parking zone a more positive and safer environment.
By utilizing the very best of protective coating systems on the internal structure of the parking area as well as any exposed decks, visual appearance can be enhanced, light reflectivity can be improved, traffic movement can be regulated and on going structural maintenance can be kept to an absolute minimum.
Concrete parking surfaces often require protective coatings to extend their service life. In contrast to other building elements of urban commercial and residential infrastructure, parking structures present maintenance challenges due to their unique exposure conditions. Additionally, more than most buildings, parking garages rely on concrete as both a structural element and finished surface.
Whether they're inside of residential or commercial buildings, or part of an independent structure, traffic-bearing surfaces of concrete parking decks can be exposed to conditions more akin to pavements and highway bridge decks than to most concrete floor slabs. GacoFlex Vehicular Decking Systems waterproof exposed concrete in parking structures, eliminating expensive repairs caused by water, acids, chlorides and salt corrosion.

GacoFlex AutoDeck is a fully adhered, seamless protective membrane, and will withstand years of adverse weather and normal traffic abuse. Incorporating tough GacoFlex urethane coatings along with GacoShell granule, AutoDeck systems are designed specifically for vehicular wear applications.
Features & Benefits
Seamless Monolithic Membrane
Long-wear Performance
Chemical Resistant
Bridges Hairline Cracks
Meets Fire Resistance Ratings
High Tensile Strength
Even-Wear Design
Reduced Maintenance
Withstands Temperature Changes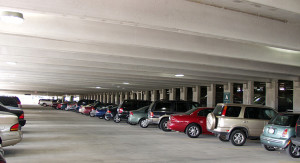 FIVE REASONS TO SELECT GACO AUTODECK POLYURETHANE WATERPROOFING
1.) PENETRATING PRIMER/SEALER
Gaco Western's primer/sealer systems are designed to provide an unbreakable bond to concrete, chemically locking the GacoFlex traffic membrane to the substrate.
2.) GACO'S FABRIC TAPE = TRIPLE PROTECTION
Gaco's 66B spun fiberglass seam tape provides the protection of strength, flexibility, and thickness to the points of stress in your traffic deck.
3.) UNIFORM PHYSICAL PROPERTIES 
All GacoFlex traffic coatings share the same uniform physical properties, creating a vertically integrated and chemically bonded monolithic membrane for greater protection.
4.) GACOSHELL 
Patented in the 60's, the use of walnut shell in a traffic deck provides for uniform hardness between coatings and aggregate assuring a long lasting, durable wear membrane.
5.) PLURAL COMPONENT MEANS CERTAINTY 
Gaco has optimized the AutoDeck formulation so the coating cures and performs the same each and every time regardless of climate conditions.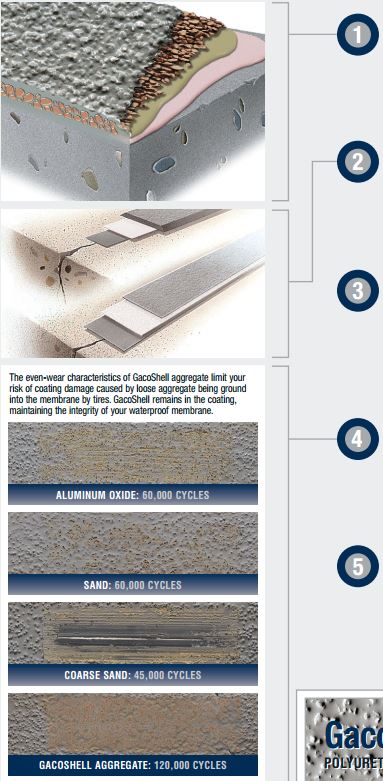 Gaco Western Systems Pass the Test for Integrity and Durability
Every component in the GacoFlex fully-integrated system – sealer, primer, base coat, GacoShell granule, and top coat – has been custom designed to perform an important function. From the tenacious adhesion of our sealer/primer, to the amazing physical properties of GacoShell granules, to our fully-adhered, durable top coat – the GacoFlex system is designed to lock in protection from harsh weather, salt, oil and heavy traffic. Designed for long-term performance, Gaco Western systems are chemically engineered to create an unbreakable physical and chemical bond. The AutoDeck system is not a generic formulation – each component is specially formulated to create a molecular bond with the other layers. In a completed AutoDeck system, the layers weld together to strengthen the whole system with nearly identical elongation, tensile strength and hardness. In each layer of an AutoDeck system, every coat enhances the strength of the layer above and below. As a result, the Gaco Western traffic deck systems are unique in providing both monolithic and vertical integration of the traffic deck membrane.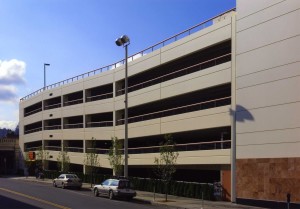 Lasting Durability and Solid Adhesion – GacoShell Makes the Difference
What are the benefits of a traffic deck membrane fused with GacoShell texture granules? The Gaco system virtually eliminates common parking deck problems such as granule "kick-out," and related rips, tears, or adhesive failure. Aluminum oxide or sand will provide traction, but at a high cost. The very hardness of these granules creates the weak link in a traffic deck system – the hard granules tear out of the coating under pressure, leaving gaps and gouges in the coating surface. The loose granules then act as a grinding media on the remaining coating, rapidly wearing it away and leaving the substrate exposed. The unique shape and physical properties of the GacoShell granule keep our systems watertight – long after other aggregates have kicked out of the decking membrane. GacoShell texture granules, unlike other aggregates, are organic in nature. These durable texture granules are hard enough to provide reliable traction, yet they remain embedded in the coating under pressure. The resulting deck system prevents granule "kick-out." Even over high-traffic ramps and turn areas, GacoShell wears evenly with the coating. GacoShell has three specific granule sizes to meet the requirements for any nonslip surface. The GacoShell granules are specially processed to remove traces of moisture, which could adversely affect the cure of urethane coatings. When you specify GacoFlex traffic deck systems, you can rest assured that this integrated system has both extremely high physical properties, and many years of successful installations.