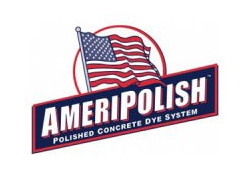 ---
3D HS Densifier
AmeriPolish® 3D HS™ is a blend of reactive silicates and additives providing enhanced densification and stain resistance with easy to use hybrid silicate densifiers. 3D HS™ high solids formula, is ideal for use on open, or porous concrete that will readily accept densifier (for non-porous floors use 3D HSL™) and works equally well on both new and old concrete. 3D HS™ is especially effective at resisting stains when used in conjunction with Ameripolish® SR2™ sub-surface stain resistor.
---
3D SP Stain Protector
Ameripolish® 3D SP™ Stain Protector is a semi-penetrating finishing treatment designed specifically to add stain protection, color protection, and color enhancement to diamond-polished concrete. To obtain optimum performance, use Ameripolish® 3D HS™ Densifier. This product can be used with dyes and densifiers from other manufacturers, however, use with Ameripolish® for optimum stain protection and color retention.
---
AquaShield
Ameripolish® AquaShield™ Waterproofing Treatment is a non film-forming hydrophobic water repellent for interior or exterior concrete without altering appearance.
---
Colorjuice 3D
A liquid suspension of proprietary ingredients. It is an odorless liquid. Appearance varies with different available colors. AmeriPolish® Color Juice 3D™ is a concrete color system designed to color and densify in one step. AmeriPolish® Color Juice 3D™ is made from mixing Color Juice 3D™ Color Part B with Color Juice 3D™ Hardener Part A to make the Ready-to-use formula.
---
Dye-N-Seal SB Solvent-Based
DYE-N-SEAL® dye is for professional decorative concrete installers. The product was formulated using extremely fine molecules of color designed to penetrate and color most interior concrete surfaces. DYE-N-SEAL dye can be used as a stand alone color application on concrete or can be used as a base coat prior to acid staining concrete in order to add color to problem areas that will not react to acid stain. Also, it can be used after acid staining to add color to problem areas that will not react to acid stain.
---
Dye-N-Seal WB Water-Based
DYE-N-SEAL water-based dye has been created to complement and expand on the already proven DYE-N-SEAL solvent-based dye. As with the solvent-based dye, the Water-based dye is formulated using extremely fine molecules of color designed to penetrate and color cementitious surfaces. (All bond barriers must be removed prior to application of dye) The
water-based dye was created for use when 1) flammability is a concern, 2) adequate airflow cannot be assured, and 3) the dyes are to be used around fresh meat, vegetables and fruit. Please note that while the water-based dyes will penetrate most concrete floors, there may be floors that retain some bond barrier, or are too tight, for the water-based dye to penetrate, while the solvent-based dye still might. In addition, due to the increased dwell time of the water-based dyes, it is not recommended to use them on stencils without pre-testing the integrity of the stencil adhesive, or bleeding may occur.
---
Edge Tint
A mixture of AmeriPolish dye and our proprietary acrylic blend that allows you to apply color that is complementary to your field color, at edges, footings and hard to reach areas, or areas where you are unable to grind or polish. EdgeTint, when applied with the Patriot SpraySafe System will save you from the time, cost and unappealing final appearance of edge work at walls and footings.  As with any sealer application, it is recommended that you apply a wax coat if the work is in a traffic area. Always apply with a recommended sprayer.
---
EZ Etch
EZ Etch cleans excess mortar, embedded dirt, grease, efflorescence and various stains from concrete floors. It also opens the surface to allow for acceptance of penetrating products such as stain, overlay concrete systems, water or solvent based sealers. EZ Etch also opens up and cleans stone, stucco, terrazzo, and other custom concrete surfaces. It has also been formulated to be very environmentally friendly and biodegradable.
---
Multipurpose Rejuvenating Cleaner
Ameripolish® engineered Multipurpose Rejuvenating Cleaner® to wet out the surface of dirt particles and debris to be washed away easily. It does not carry harsh chemicals that can react with the cleaning surfaces. Multipurpose Rejuvenating Cleaner® is designed to be used daily on polished concrete, tile, terrazzo, epoxy, urethane and wood floors. Multipurpose Rejuvenating Cleaner® does not create a buildup of residues and chemicals. This helps your surfaces stay looking new.
---
Oil Eater
Ameripolish Oil Eater is an environmentally synergistic way of removing oils from surfaces. It can breakdown and consume oil based materials from multiple surfaces while absorbing odors. Oil Eater is 100% biologically driven and is therefore extremely safe for the environment.
---
OS Dye
AmeriPolish® OS is a complete system of treatments for coloring, polishing, protecting and maintaining cementitious overlay floors. It is compatible with most cementitious overlays. AmeriPolish OS Dye, surface-applied dye with enhanced penetrating properties needed by cementitious overlays.
---
OS Integral Color
AmeriPolish® OS is a complete system of treatments for coloring, polishing, protecting and maintaining cementitious overlay floors. It is compatible with most cementitious overlays. AmeriPolish OS Integral Color, pre-measured liquid pigment designed especially for cementitious overlays.
---
Paver Sealer
Ameripolish WB Paver Sealer has been formulated to rejuvenate and enhance the original color of pavers, concrete replications and stone. It is also designed to give long lasting protection by repelling water and blocking UV degradation.
---
PCA Penetrating Curing Agent
Ameripolish® PCA™ is recommended on newly placed concrete to add initial water and stain repellency while retaining slab moisture for improved curing. Ameripolish® developed PCA™ Penetrating Curing Agent to improve surface performance and effects of traffic wear and weathering, and also adds stain resistance. PCA™ can also be used with integrally colored concrete. PCA™ is meant to be used along with Ameripolish® 3DHS™ densifier or equivalent reactive silicate densifiers and 3DSP or SR2 or equivalent stain protectors.
---
Penetrating Agent Plus
Created to improve the dye penetration in tightly troweled and polished concrete, and during hot weather application. Using only 4 oz. of Penetrating Agent to a gallon of dye, you are able to control the "drive" of the dye into the concrete, minimizing both surface residues and material waste. The increased dwell time can also provide the opportunity to add color to previously densified concrete.
---
Proguard Conditioning Cleaner
Delivers a chemical formula with superior results due to its soil release and soil suspension abilities.  By keeping the soils from re-depositing on the floor, you are successfully eliminating the greatest hazard to your dyes and polished finish.  Its special chemistry combines results with ease-of-application.  Whether used with a mop and bucket, or a walk behind scrubber, you receive thorough and consistent cleaning using only 1 oz. per gallon of water, making it the most efficient cleaner and conditioner for polished concrete in both costs and performance.
---
Proguard Stain Shield
PROGUARD™ STAIN SHIELD is a penetrating stain repellent that was specifically formulated for the protection of polished/dyed concrete from oil and water-based stains. As with any penetrating stain protection, the product is meant to provide you with a "window of opportunity" to clean up spills prior to staining, yet still retain the densified floor's breath-ability. Simply applying a minimum of two light film applications of STAIN SHIELD, and you will further enhance your floor's color, durability and ease of maintenance. Combine with PROGUARD™ CONDITIONING CLEANER for superior results.
---
Proguard Stain Shield Stripper
ProGuard Stain Shield Stripper is a water-based stripping agent specially formulated for the removal of the ProGuard TM Series Stain Shield from polished concrete floors that have received the AmeriPolish dyes.  It is not uncommon for an owner or architect to ask for project changes following the completion of the dye and Stain Shield application, and prior to the formulation of the Stain Sheild Stripper, it was necessary to grind off Stain Shield in order to apply additional dye or dye colors.
---
Solvent-Based Concrete Dye
AMERIPOLISH solvent-based dye is packaged in powder form to be mixed with acetone by the customer. AMERIPOLISH dye is offered in 22 standard colors. Custom colors are available for an additional fee and minimum order. Be aware that paint colors that contain a white base cannot be replicated. Dye colors can be combined to create an unlimited number of color variations. When applied properly AMERIPOLISH dye gives great color to polished concrete floors or it can produce a look similar to an acid stain with a sealer. Anytime that AMERIPOLISH dye is used on a process other than polished concrete, a sealer is required. This brightens the color and retards color fading over time. The AMERIPOLISH PROGUARD™ STAIN SHIELD, an impregnating sealer, should be applied to provide added protection against oil and water-based spills and stains. Concrete, even after becoming densified and polished, is still a porous substrate, and all densifiers require 2-6 months to attain full densification.
---
SR2 Sub-Surface Stain Resistor
Ameripolish® SR2™ stain resistor repels both oil and water on most hard surface substrates, providing real stain protection without forming a typical film like "guard" stain protection. SR2™'s extremely small molecular size allows it to penetrate into dense, hard and non-porous surfaces creating a sub-surface barrier resistant to staining from many foods and chemicals.
---
Strip & Clean
The AmeriPolish solvent and water-based dyes are formulated using extremely fine molecules of color designed to penetrate and color any cementitious surface (All bond barriers must be removed prior to dye application). AmeriPolish dye was created for use with polished concrete, but can also be used as a base color or touch up for concrete that has received integral color, dry shake hardeners, acid stains or even as an overlay to itself. Even after being densified and polished, concrete is porous and densifiers take 2-6 months to achieve their full repellency so AmeriPolish created the Ameripolish WB Surface Sealer for protection of your dyed and polished floor, and now we offer the Ameripolish® Strip & Clean for those times when it is necessary to remove the Stain Shield in order to change or enhance your dye color. Prior to starting your project, always apply the dye to a sample area at the actual site in order to confirm that the floor is receptive to dye, and to establish the desired color. REMEMBER that dyes will not mask or hide imperfections in the floor, and may appear different in areas that received different pours or patches. The addition of the Ameripolish® Strip & Clean is an integral component of the AmeriPolish System.
---
SureLock Densifier
Combine a fast-acting, high-strength densifier with precisely formulated and concentrated SureLock colorant and you cut dyeing steps while building up color-rich density.  Our proprietary lithium-silicate based formula is enhanced to go where other LS densifiers do not: deeper into the slab.  As it penetrates, it locks color in deep where it won't get polished off.
---
SureLock Dye
A concrete dye equal to any application situation. IT not only penetrates the surface but, unlike competitive products, it chemically bonds to the concerete. It contains UV-stabilizers for long-lasting performance. Predissolved concrete liquid is fast and easy to use: dilute to working strength and it's immediately ready to apply.  Penetrating agent included in the dye eliminates mixing steps and delivers deep, rich colors.
---
SureLock Rejuvenating Cleaner
Rejuvenating Cleaner replenishes the Stain Protector's liquid resistance, and is recommended for all regular maintenance. IT has no harsh solvents and Ph neutral. Rejuvenating Cleaner delivers superior results due to its soil release and soil suspension abilities. By keeping the soils from redepositing on the floor you are eliminating the greatest hazard to you dyes and polished finish.
---
SureLock Stain Protector
The crowning touch of your polish. Spread Stain Protector and watch the gloss come to life with color that delivers its full impact and beauty. SureLock Stain Protector protects the surface from stains, oils, and even color-damaging etching agents like vinegar. UV stabilizers help preserve color integrity. The surface keeps its color and integrity for beauty that lasts.
---
X-Link WB Surface Sealer
Ameripolish® X-Link™ WB Surface Sealer is a sprayable, low VOC, fast drying water-based sealer designed to protect and beautify decorative concrete. X-Link™ WB Surface Sealer may be used to seal concrete with no color or with other compatible color products. X-Link™ is water and chemical resistant.