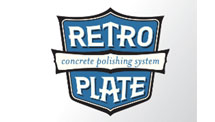 ---
CreteClean Plus with Scar Guard™
Benefits:
Revolutionary, Cutting Edge Technology CreteClean Plus with Scar Guard is uniquely formulated to clean and condition densified and densified-polished concrete. Proprietary polar technology pulls contaminants out and up from concrete and holds it in suspension, providing maximum cleaning efficiency.
Reduces Environmental Impact CreteClean Plus with Scar Guard is a water-based detergent that contains no Volatile Organic Compounds (VOCs). Due to its high concentration, less product is required for use, and therefore less needs to be purchased, shipped, and stored, thereby greatly reducing its overall environmental impact.
Improves Floor Performance
The chemically advanced technology of CreteClean Plus with Scar Guard elevates it from a detergent to a performance enhancing cleaning agent. Regular and frequent use of CreteClean Plus with
Scar Guard can, over time:
+ Help strengthen and harden concrete surfaces,
+ Decrease the visibility of minor scratches and blemishes,
+ Decrease porosity, and
+ Help maintain the sheen of densified concrete surfaces.
Suitable For Use In Food Handling Establishments
CreteClean Plus with Scar Guard is approved for use in institutional,
industrial and food handling establishments.
---
RetroGrind™
RetroGrind™ is a revolutionary, neutral pH concrete cutting compound that can finish a floor in as little as 2 to 3 grinding steps. When compared to the traditional 8-step polishing method, RetroGrind not only saves money, but produces superior results. RetroGrind can be used on new and existing densified floors and will penetrate most hardeners on the market including, lithium, sodium, and potassium hardeners. It can also remove metal scratches left in the slab from previous polishing attempts.
Benefits:
Requires fewer grinding steps to process the floor
Reduces consumable cost and labor
Effective on both new and existing densified concrete floors
Removes metal scratches left from previous polishing attempts
---
RetroGuard™
RetroGuard™ is a modified acrylic sealer yielding high reflectivity. The topical coating is suitable for protecting concrete and natural or synthetic stone surfaces against oil and food staining. It is UV stable, and therefore, applicable on both exterior, as well as interior surfaces. RetroGuard is highly effective at preventing acid staining on all stone and concrete surfaces, even keeping acidic fumes from the surface to which it is applied.
Benefits:
Penetrating, long term protection. Won't peel or flake.
Protects surface from water and chemical attack.
Ideal for all RetroPlate® treated floors – new or old, standard or
colored.
Enhances colored concrete, whether integrally colored or topically
applied.
Easy application. Low odor. No scrubbing or flushing required.
Reduces maintenance.
Complies with all known national, state and district AIM VOC
regulations. Maximum VOC content 100 g/L.
---
RetroPlate 99™
RetroPlate 99 is a chemically reactive concrete stabilizer which enhances concrete density and hardness, allowing the concrete to be finished to a high cosmetic, marble like sheen. It is used in conjunction with the RetroPlate® Concrete Polishing System for select floors in which:
Benefits:
The floor is deteriorating and dusting.
The concrete surface is dull, rough, pitted or raw looking.
Overlays, toppings or expensive recoating is required.
A marble like, hard shell, maintenance free finish is desired.
In addition to bare concrete, RetroPlate 99 works successfully with integral color, acid stains, dyes, dry shake hardener and cementitious terrazzo.
RetroPlate 99 and the RetroPlate® Concrete Polishing System, provides a functional solution to floor problems, as well as being architecturally and design ambitious. Colored aggregate, recycled glass, and other decorative material can be added into the surface to be exposed during the grinding process. The unique ability of the RetroPlate® System to combine the architectural, artistic nature of design with the function and permanence of the best hardener in the business allows for unlimited possibilities for floor design.